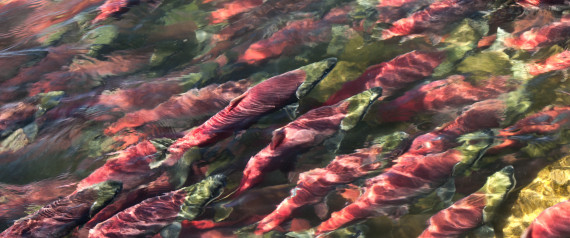 The salmon farming industry has long been
banned
in Alaska, where it's believed to be a threat to the state's healthy wild salmon populations.
But that's not the case in Canada, where Norwegian-owned aquaculture multinationals have done a terrific job of winning over the federal government.
These controversial corporate citizens are largely to blame for the gradual dying out of Canada's most famed fish. So says the Canadian scientist, TV personality, and leading environmentalist Dr. David Suzuki.
During the Harper administration, Suzuki bluntly referred to the federal government as "corporate cheerleaders" for the aquaculture industry in a conversation with this article's author. And nothing has really changed since the swearing-in of Canada's new Liberal government.
It's hard to argue that Dr. Suzuki is wrong, especially since Canada's federal government and its B.C. provincial counterpart actively promote salmon farming. They even go so far as to use Canadian taxpayers' dollars to
subsidize the business operations
of Norwegian-owned fish farms in B.C.
This unholy alliance may help explain why it's still legal for salmon farms to unintentionally become ambush sites for juvenile salmon migrating out to the open ocean.