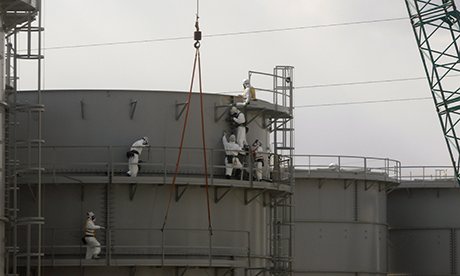 Workers wearing protective suits and masks constructing water tanks at Fukushima Daiichi nuclear power plant. Photograph: Issei Kato/Reuters
(
N.Morgan
) A guarded way of saying things are just awful there? Of course, morale is down, those poor people are surrounded by death and destruction, daily, They are pissing radiation and their families are dying left and right. Their food supply is screwed and no one in the world is helping them. Dressed in a hazardous materials suit, full-face mask and hard hat,
Japan
's prime minister, Shinzo Abe, left his audience in no doubt: "The future of Japan," he said, "rests on your shoulders. I am counting on you." Abe's exhortation, delivered during a recent visit to the
Fukushima
Daiichi
nuclear power
plant, was only heard by a small group of men inside the plant's emergency control room. But it was directed at almost 6,000 more: the technicians and engineers, truck drivers and builders who, almost three years after the plant suffered a triple meltdown, remain on the frontline of the world's most dangerous industrial cleanup.
Article Here:
http://beforeitsnews.com/japan-earthquake/2013/10/fukushima-plummeting-morale-as-death-and-clean-up-take-toll-2444192.html